I had the privilege of chairing a very interesting project this past summer. International Space University held its Space Studies Program in Montreal this year. Hosted by L'École de technologie supérieure (ETS) and HEC Montréal, this program brings together more than one hundred professionals from the space sector for a nine-week marathon of courses, workshops and team projects. One of these projects was dedicated to Open Innovation.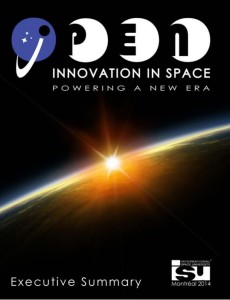 The main objective of this project was to determine the potential of open innovation in space by identifying its most promising applications as well as its limitations. The participants used a case study methodology supported by a critical literature review. They selected asteroid mining as their case study. The 33 participants of this team project did a great job in defining Open Innovation within the space context and they developed actionable recommendations for the private sector as well as space agencies.
I would like to take this opportunity to thank all of the participants for their excellent work.
You can download the Executive Summary and the Final Project Report at the website of the ISU Library.